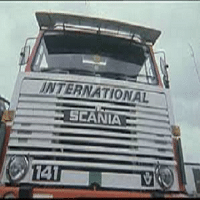 Reeling in the Years back to 1979 from the RTÉ archives, featuring the classic Scania 141 and a young 12 year old Gerard Keogh making his 'dream come true' by getting a chance to travel around Dublin in the mighty Scania 141. The classic look of the Scania Truck may have changed a bit over the years but the legendary reliability of the Scania has not.
This segment of 'Youngline' offered viewers the chance to write in and request for their dream to come true. Youngline was a once weekly, half-hour magazine show for younger viewers. This was Gerard's week.
RTÉ's Conor McAnally reports for 'Youngline' on 15 November, 1979. Check out this classic clip by clicking on the picture below.
Copyright- RTÉ archives.