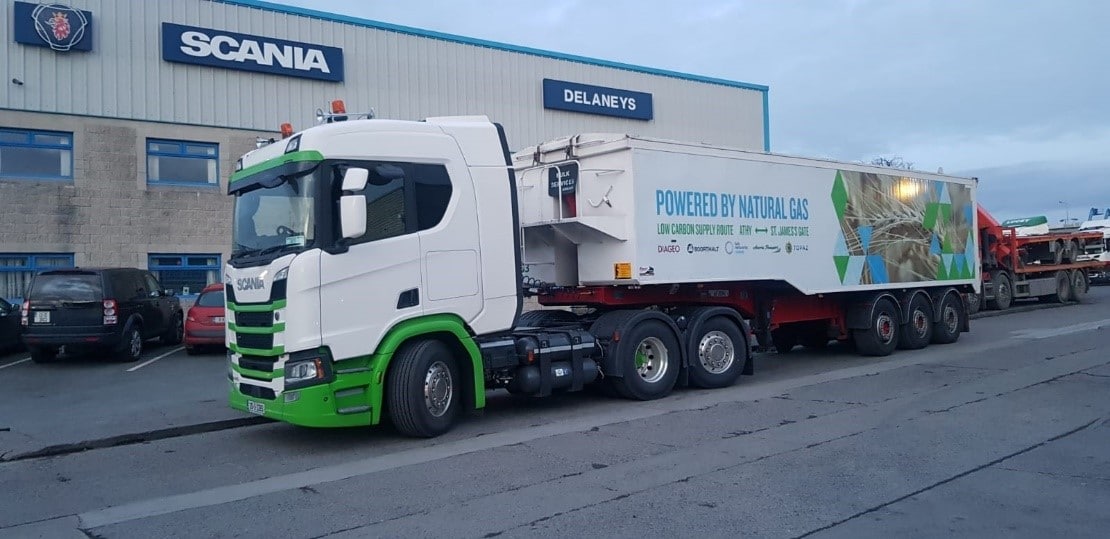 Westward Scania's CNG Gas R410 A6 X 2 *4 Demonstration unit is working well!
Today the transport sector is a major source of CO2 emissions from fossil fuel. This means the transport sector is ideally placed to reduce emissions.
Our customers across the country are under pressure to reduce their carbon footprint. All the pressure is on our customers, but where do they turn if there are no options?
Scania have seen this need and have begun to offer a range of alternatively powered vehicles. Some of these include, electric, hybrid, LNG and CNG. All of these have the potential to reduce C02 emissions in Ireland.
Infrastructure:
So why aren't we selling Electric + Hybrid HGVS yet in Ireland?
Scania has a product ready but Irelands Infrastructure is not ready. Westward and the Scania dealer network pride themselves on understanding their customer's needs and their transport task. The infrastructure/National Grid is not ready in Ireland to cope with the fuelling of HGV Electric/Plug in vehicles.  But the Government are working on providing a solution to overcome this Infrastructure issue.
CNG:
CNG currently is the most sustainable and Practical fuel source available on the Irish Market for HGVS. The CNG engine operates quite similar to a petrol engine. Gas is stored in a fuel tank, A CNG fuel system transfers high-pressure natural gas to the engine's combustion chamber. The pressure is then reduced to a level compatible with the engine fuel injection system, the fuel is introduced into the intake manifold or combustion chamber, where it is mixed with air. The fuel-air mixture is then compressed and ignited by a spark plug. There is no exhaust gas after Treatment involved on a CNG truck.
First Rear Steer CNG tractor Unit ever Built:
Westward and the Scania dealer network listened to what our customers were saying. We saw the need for a "sustainable/green" product that would suit the Irish market. We already have many 4 x 2 CNG units operating in Ireland. Westward Scania's CNG Gas Demonstration units have been very well received.  Unfortunately for many of our hauliers a 4 X 2 configuration is not suitable for their work due to the limitations on GTW. After some months of communication with the Factory, the first ever CNG A6X2*4 was built.
So Far so good
Due to the Covid 19 the "gas roadshow" had to be postponed. However we were able to get 3 roadshow events completed. These took place in Delaney Commercials, AOC Commercials and T Nolan's & sons. The idea of these roadshows was to promote the CNG tractor Unit and for Potential customers to test drive our new demonstration unit
After the roadshow, the truck has being out with different customers across the country. We have to be certain before the truck goes out that the customer has a supply of CNG and the route the truck will be working is close to a CNG fuel source.The first trip the truck did was from Dublin port to Belfast (358 km) with an average GTW of 30 tons it completed this journey and still had Gas in the tanks.Following this the truck went to the south west of the country to Clean Ireland. The truck is operating between Shannon Co Clare and Littleton in Co Tipperary.  Brian Lyons, General Manager of Clean Ireland has being a great pioneer for CNG trucks in Ireland and has worked very well with us with R410 gas demo, Detailing exactly how the truck is performing and what parts need improvement.
Every day a learning day
As it's the first CNG A6X2*4 ever built of course there will be some "teething" problems and we are working closely with the factory to resolve this. Whilst the Demonstration unit has being out we are learning every day how a CNG truck performs under different transport tasks within Ireland. We have made different adjustments to its Set up whilst out on Road. For example we have added a roof air deflector and limited the Top speed of the truck. We have made lots of other tiny adjustments that will all add to extending the range of the truck.
To see how Scania can reduce your carbon footprint with CNG  Click here  Contact our sales team if  or email us at Importer@westwardscania.com