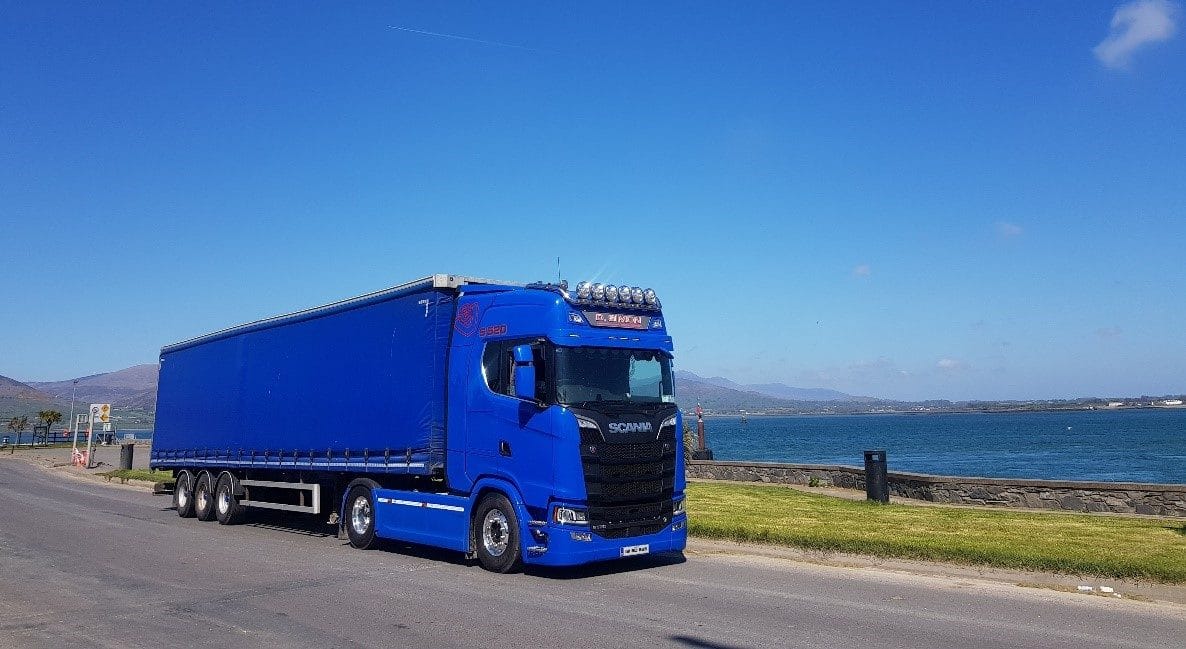 David Simon Transport was established in 2014.  A company based near Geevagh, Co. Sligo, David is an owner-operator and is a real example of what hard work and dedication can achieve. In his own words David says, "We try to specialise in offering a more personalised service to customers than a lot of the bigger hauliers cannot do, due to their size."
The majority of David's work consists of transporting goods via flat trailers, fridges, containers, and curtain-siders all across Ireland and sometimes further afield to the UK and Europe. An average day for David consists of loading containers in Dublin port he says "these loads can be for delivery to any part of the country, from a house delivery to a multinational company".
David's Trucks:
David Simon Transport currently run two Scania trucks, A 2019 Scania S520 and a 2003 Scania 164 480. David say's
"Since I started driving trucks, Scania has always been my preference in trucks. The attention to detail for the driver has always been something I have admired from Scania as well as the performance and comfort. In 2016 I bought a new R450 top line from Westward Scania, from sales to service, and everyone in between I have never been let down by anyone which prompted me to go back and in 2019. I traded the R450 for a new S520 Highline"
When asked about his latest purchase Scania S520
"So far I'm very happy with the way the 520 is performing. It has the extra horsepower but doesn't come with a big fuel penalty in return. I think it's a great combination of power and economy"
Why choose Scania?
"As time is a huge factor to my business, reliability is of the utmost importance. Scania trucks have always been known as a long lasting reliable product. Some of the older models I have driven down through the years have had near 2 million kilometres on them and still going strong. The resale value of Scania trucks especially the V8 models has always been a great benefit in the long term also.
"It leaves you with an asset and not a liability"
What has being your favourite truck throughout the years?
"I've always been a big fan of the 164. These were the real driver's trucks from a legendary era in trucking. I still have one working every week, if they're looked after right these trucks will go forever and put a smile on your face every time you turn the key!
COVID 19 and other Challenges
Covid 19 has really shown how vital our supply chains are, how has it made your work harder?
"Covid 19 has tested us all in so many ways both in business and of course on a social level. One of the biggest challenges any trucker in Ireland faced on a daily basis was simply getting fed. Even now it's still not easy as a lot of the regular truck stops are closed and the sad part is some may never open again.
During Covid 19 it was clear to see the strong industries in this country as they never ceased. Agriculture mainly comes to mind, we cannot forget how important agriculture is to Ireland, when everyone else was at home the farmers and the truckers never stopped to keep shelves stocked", according to David.
Bar Covid 19, what are the main challenges facing owner-operators such as yourself? 
"Road haulage has always been a challenging industry. In recent years getting people with a genuine interest in driving has proven difficult. I think more money and time needs to be invested into this by hauliers and by the government, as we've all seen recently truck drivers play a very important role in the economy and incentivising more professional people into this industry defiantly needs to be looked at seriously"
Hard work pays off:
Everyone at Westward Scania was delighted to hear of David winning "Owner Driver Haulier of the Year 2020".  This award celebrated the best in class for owner-operators. and it was nice that David's hard work was rewarded. We wish David continued success and we are delighted he choose Westward and Scania.