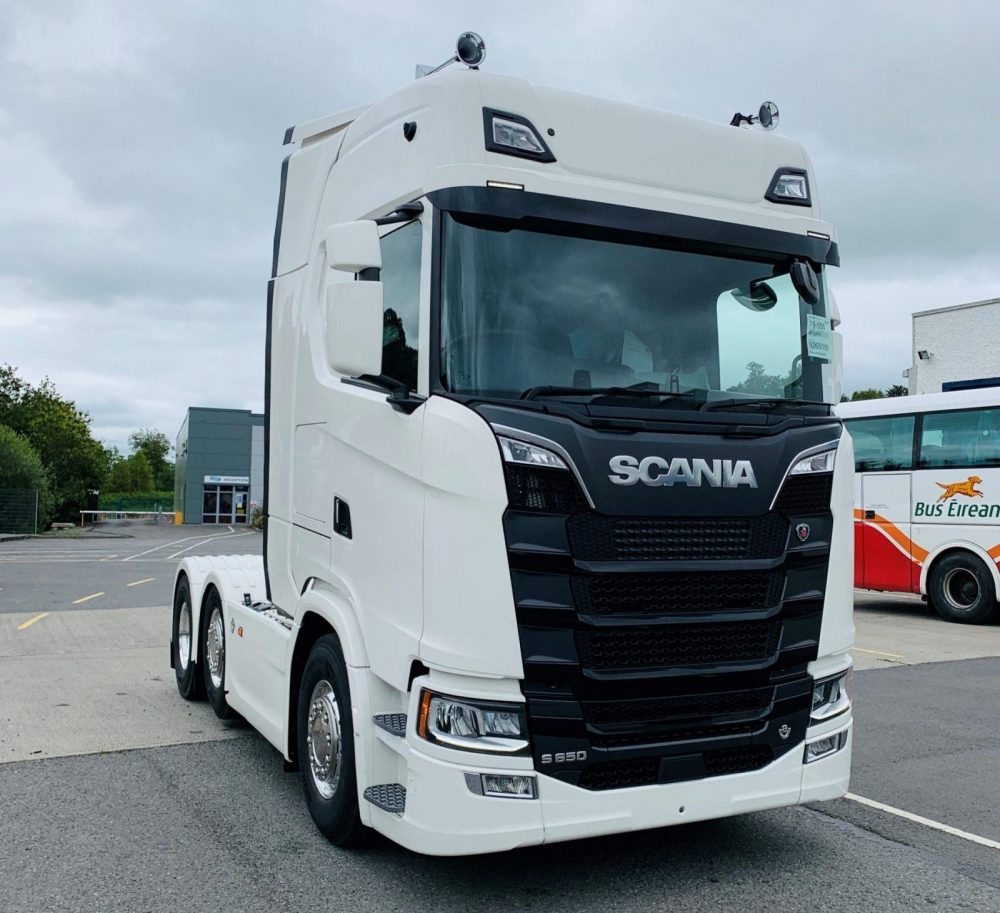 It may be late July, but already we are now ordering units for January 21 delivery. We have ordered a wide range of stock in many configurations. Tags, Pushers, Twinsteers, and 4 x 2's. If our stock is not to your liking we can place a fresh order for you, but please be advised we would need to receive orders before the end of august for Jan 21 Delivery as we are now in December production. Order your 2021 Scania now
650's are the business
From speaking to our customers, we have received many great positive reviews on the 650 engine. Already it is becoming a bit of an icon. Since its launch its being the most popular Scania engine on the Irish Market. The 650 engine is SCR only and develops 3300 N/m of torque. Is the 650 the right truck for you? Contact our salesmen today and who will be happy to talk through specs with you
Must-haves for 2021:
If you are in the market for a new Scania truck, have a look at these cool features you should consider specifying on your new truck. Contact our sales team, who would be delighted to talk you through these wonderful features. Order your 2021 Scania now
V8 Pack: Red and black features fill the cab of a V8 Scania. This includes the dash, seats, door cards mats, and even the steering wheel:
Alloys: Durabright alloys reduce the weight compared with an equivalent steel wheel rim. The lower chassis weight enables a higher payload and improves suspension performance. They look very cool too. Hubs can be painted in a variety of colors.
Storage: Scania products are designed to put the driver's comfort first always. Scania products come with a range of storage options, which make clever use of the space within the cab. Some of these include Overhead storage and external storage compartments.
Driver must-haves: If a driver is working and living in a truck, they deserve the best Scania accessories. Scania has designed solutions that will help a driver keep healthy and provide them an area to prepare and store food.
Full Catwalks: Full catwalks make it possible to walk across the entire chassis and avoid stepping on delicate parts. They look extremely cool as well.
So contact Westward Scania or your local Scania representative and they will be happy to discuss the features above and show you many more options available to you when specifying a Scania. Do not forget the deadline for January orders is fast approaching so order now to avoid disappointment. Order your 2021 Scania now
Follow us on Facebook, Instagram and Twitter for more updates.